Meg, all ready to go this morning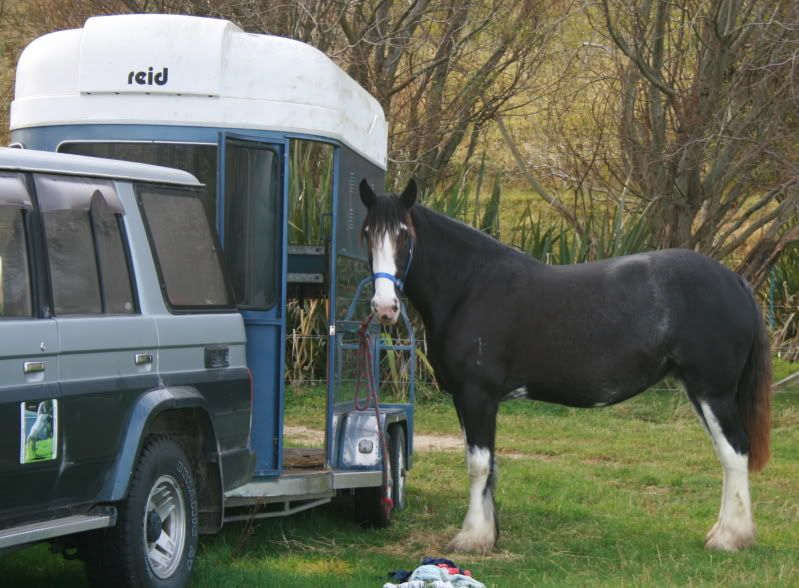 Today I took Meg down to the Solway Dressage group's rally. We have our first competition next Sunday and today was an opportunity for me to ride Meg with other horses and in an arena. She loaded into the float like she had been doing it her whole life and off we toddled. It was a good exercise for me too as it was the first time I have loaded a young horse up and taken it out completely on my own.

Once there I let her have a wee look around and then tied her to the float and gave her a good groom. She was very settled, just looking around when other floats and horses arrived but generally focussed on her hay net.

Once I had found a suitable mounting block (these days I cannot get on unless lowered from a great height - very sad) I was on board and we tootled about. She was fabulous! Not at all bothered by the other horses and listening nicely to me. Two of the dressage group ladies very kindly came over and asked if they could help in any way so we did some work on 20m circles/arena craft and I rode through my tests for next weekend and even managed to get both canters, correct lead and sustained first time! THAT was a great confidence boost, probably for both of us! I had some lovely comments about Meg and I think she surprised a few people. I am sure we won't be setting the dressage world alight any time soon but she is going to be a great ambassador for the breed, demonstrating that purebred Clydesdales can do more than pull carts and plough fields.

I now have a very tired but very clever clompety settled back into her paddock filling her face and a warm glow about my person - I am really looking forward to our debut next weekend.

We also had 12t of lime delivered on Friday and so I have attached a photo of how the shed is looking with its lovely new lime base. Hopefully my stable will be being built in it very soon!!!