I know I am supposed to be downsizing and I have done pretty well really BUT, when the chance to welcome Saffron into the family came up, how could I refuse?
Saffron's human Mum and Dad are having a bit of a change of direction which involves selling their LSB in Wellington and this means that Saffron needs to find a new home. Hamish's fillies are very few and far between (only 3 have been born) and with the tragic death of Kismet Farm's Storm earlier this year, there are currently only two! I have always regretted selling
BJ
(although not regretted the home she went to - it's fabulous!) but now we have a beautiful half TB filly by Hamish (out of a Centro - Kaapstad mare) coming to live with us, I am thrilled! I can't wait for her to arrive!!!
Saffron was a very late foal (March '08) so unfortunately is unlikely to be an in-hand prospect, which is disappointing as I have yet to show any of Hamish's progeny in hand - perhaps by the time she is a rising 3yo she will be mature enough to look ok - only time will tell. I do hope to keep her as a future broodmare so my plan at this stage is to keep her, get her backed, ride her myself initially and then find a nice rider to take her out and about for a few years - I want her to have a performance career before she is retired to the broodmare paddock.
Saffron at a few weeks of age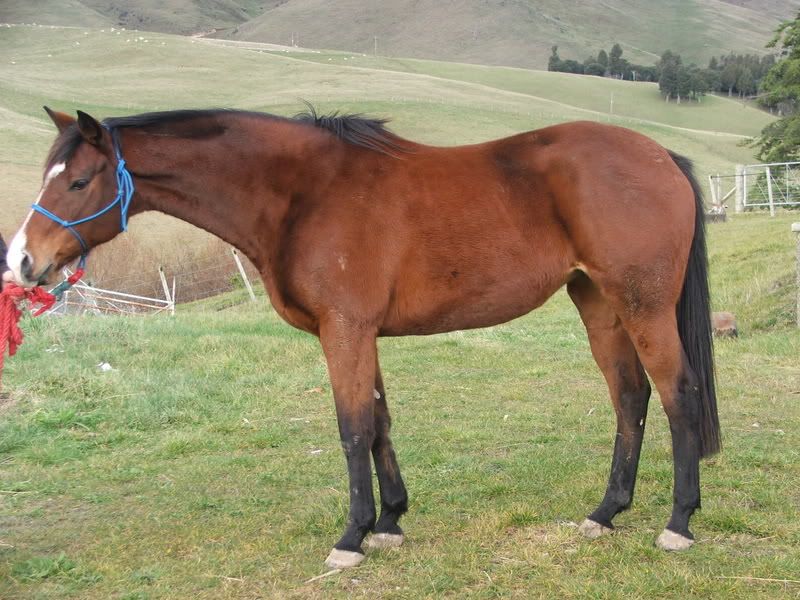 Now finger's crossed that the weather behaves itself tomorrow for branding and gelding and then we are off to collect Meg from Gavin and Nicole's place - She's all ready to go! Very exciting!!!