Kohatu Dark Isle
(Isla) and
Wayward Wind
(Cindy - Reg'd name pending) arrived at 9.30 this a.m and are two lovely purebred Connemara mares who I am absolutely thrilled to be able to say have been offered to me on lease for this breeding season. Both will be bred to Crossiebeg Brennan and I will have two purebred Connemara pony foals next season. I can't quite believe it, I might just have to pinch myself! I am so grateful to their owners, Sheila and Vanessa, for letting them come and 'hang out' here at Talisman Farm. It really is an amazing opportunity and they are absolutely gorgeous ponies!
Here are some photos:
Isla

Cindy and Isla
Isla shows a clean pair of heels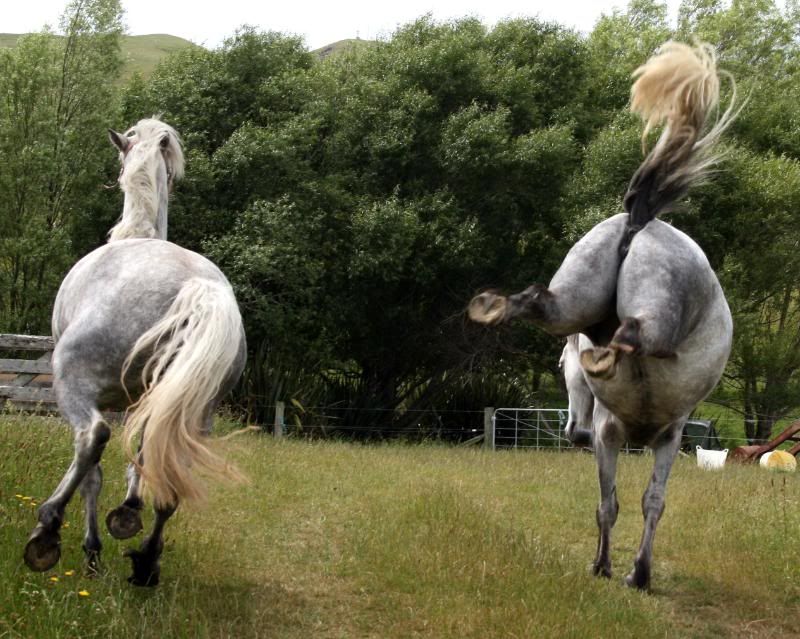 Cindy's sweet wee face
Best buddies already (and only met today!)
In other 'news', we had the vet to scan Hooty and Amber and were thrilled to be able to tell Amber's owners that she is now confirmed in foal to Brennan. Sadly Hooty has some fluid and a cyst so no pregnancy for her so it's a couple of days on oxytocin, serving early in the week and then another dose of hormones and then we wait another couple of weeks to see if we have had success.

I am still waiting to hear back from 2 owners as to their status of their mares (1 x AI and 1 x natural service) but both should well and truly have cycled again by now so I have my finger's and toes firmly crossed. We have a few more AI clients yet to service and some outside mares to arrive for breeding so, with a bit of luck and work, Brennan should have about 10 foals on the ground next season. Not a huge number but a nice start for a young boy in his first season.